LINEMAN BROTHERHOOD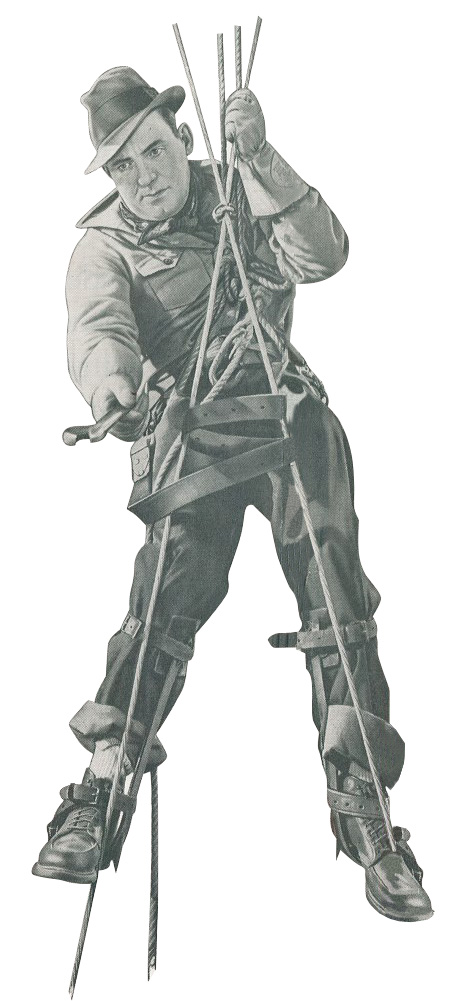 Wyatt was an excellent lineman. His fame was derived from the ingenuity he had always had as a rigger and improviser of countless devices to overcome the unexpected difficulties that abound in line work. He was, moreover, a product of the old days in tower work, having first gained prominence while working on the Multisource Power Company's Hydro Falls extension.
This line bore the just infamy of being the bloodiest ever built. Its general foreman, old McGillan, was a hard-shelled veteran of the earliest days of transmission work. These were the good old days before industrial reform commissions, courts, and legislatures had developed what the power interests whined was a socialistic curiosity about the hideous cost in life and limb of line work. The times have changed. Even the most avaricious managements have finally been proselytized to the God of Safety First, for the new theology has become demonstrably cheaper than the old heedless haste and recklessness.
On the Hydro Falls extension old McGillan had set records – one for the work accomplished and one for the frequency and severity of his accidents. This latter had eclipsed even his own advance estimate, which was a man a mile.
"I'll fill their places as fast as you can kill 'em, an' I'll fill yours faster than that if you don't keep my wire moving!" he had told his foremen at the outset. He kept his word.
For this butcher Wyatt had gone to work as a young but able lineman. Under him he had seen two of his friends electrocuted while trying to obey the old villain's orders on a piece of work so needlessly hazardous that the deaths could only be called murder. Over him Wyatt had been working the following morning when a string of falling insulators had ended old McGillan's life. A coroner's jury returned its perfunctory and indifferent verdict of death by accident, the company sent out a new general foreman, and officially the matter was forgotten. Unofficially it was remembered and remarked among the linemen that "'Wyatt neveh was a man to be droppin' things caheless." Old man Thornleigh, who was a cousin of one of the dead linemen, hired Wyatt as a foreman on the next job.